MESSAGES | FEATURES | PREVIEW | EVENTS
By Carolyn M. Brown, JerseyArts.com
originally published: 09/22/2022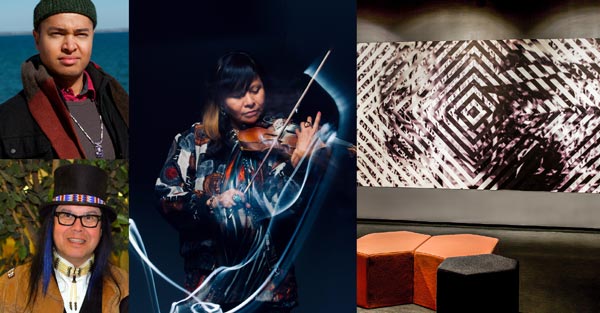 Above: Jeremy Dennis (above, photo by Simon Howell), Brent Michael Davids (photo by Frank Schramm/Montclair Art Museum), Laura Ortman (photo by Frank Schramm/Montclair Art Museum), and Caroline Monnet, "No One Spoke of Extinction, " 2021, vinyl print (photo courtesy of the artist).
The Montclair Museum of Art (MAM) will honor the artistry and contributions of indigenous peoples with a series of workshops, performances and artistic activities with an Indigenous Peoples Weekend October 7-10. The Lenape people are the Native people of New Jersey and MAM invites adults, children and families across the state to join us in acknowledging the history and heritage of Native Americans here in Lenapehoking (homeland of the Lenape people).
On Saturday, October 8th from 3pm to 5pm, visitors can bring a camera, smartphone or tablet and join artist Jeremy Dennis on a Photo Walk. Dennis will host a new exhibition of his photographs at MAM's main entrance, provide an overview of his work as an artist and talk about his background as a member of the Shinnecock Nation in Southampton, New York. He will lead a group walk to neighborhood locations where participants can observe, photograph and engage in lively discussions.
"A lot of the work I do as an artist and photographer tries to expand understanding of our history and provide a better representation of who we are as Aboriginal people," says Dennis, who notes that there are about 13 Native American tribes in the East -Long Island. "I think especially in the Northeast there is a lot of misconception that the indigenous people aren't here anymore or that they are mixed race. Photography is a really powerful medium because it allows you to show proof of who we are along with storytelling and many other amazing things."
On Sunday, October 9 from 1:00 p.m. to 4:00 p.m., Dennis will lead a family-friendly Sunday Studio event where children can create paper collages based on Native American creation stories. Indigenous Peoples Day is a national holiday celebrated this year on the second Monday in October – October 10th. "Indigenous Peoples Day is really about bridging the gaps in understanding and education among indigenous people," says Dennis. "But we really want to have more than one day in a month of appreciation. We want it to be year-round, continuous understanding and learning." He adds that MAM's planned events over a weekend are a "good start" — a "taste" of some of Aboriginal culture.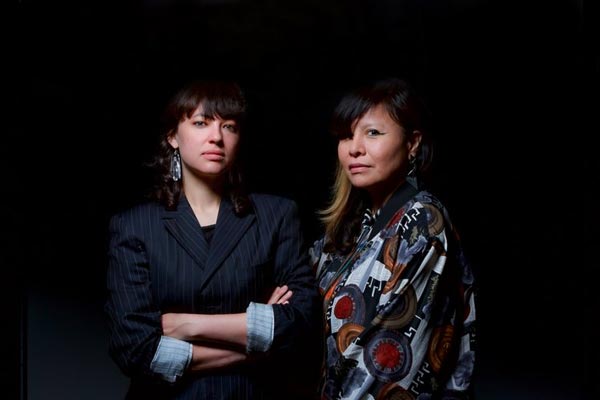 Advertise with New Jersey Stage for $50-$100 per month. Click here to get more information
---
Caroline Monnet and Laura Ortman (Photo by Frank Schramm/Montclair Art Museum)
From My Home to Yours is a video, sound, and print installation that transforms MAM's Rand Gallery into "an immersive, resonant space to pause and reflect on home, long-distance connections, and the places in between." Longtime friends and collaborators, Montreal-based filmmaker Caroline Monnet of the Anishinaabe of Canada's Great Lake Region and Brooklyn-based violinist Laura Ortman of the White Mountain Apache of Arizona, shared images and compositions across miles. The resulting sensory collage overlays abstracted natural forms and Super 8 film from Kitigan Zibi, Monnet's mother's Quebec community, with Ortman's local outdoor and indoor field shots and experimental violin. From My Home to Yours is organized by MAM's Native American Art Curator Laura J. Allen in collaboration with the artists.
In conjunction with MAM's immersive installation From My Home to Yours, acclaimed concert and film composer Brent Michael Davids presents an evening of live chamber music, films and talks about the Aboriginal homeland entitled Brent Michael Davids: Home in Lenapehoking. . Monday, October 10th from 5:00pm – 7:00pm Davids enjoys a high international reputation as a composer and musical campaigner for indigenous justice and parity, particularly in concert music where there is little indigenous influence. A descendant of local Indigenous peoples displaced west from their lands and waters, Davids is a member of the Stockbridge-Munsee Band of Mohican Indians and co-director of the Lenape Center in Manhattan.
A highlight of the evening will be Davids' composition The Last of James Fenimore Cooper, a humorous satire that turns the tables The last of the Mohicans, the famous 19th-century romantic novel that was also made into a film. James Fenimore Cooper is the author of the book. Led by David's narration, the piece is performed by a string quintet consisting of the New York City-based Kodak Quartet and Montclair State University's Ryan Chamberlain on bass.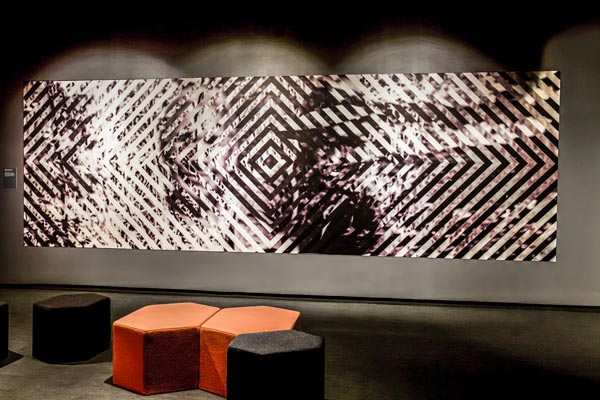 Caroline Monnet, No One Spoke of Extinction, 2021, vinyl print (photo courtesy of the artist).
The evening's musical performance will be curated by Cherokee Nation citizen Betsy Theobald Richards. "Davids is very committed as someone who's really trying to bring Lenape, both heritage and vibrant culture, back to their homeland and have a presence," says Richards. Reflecting on the notions of home expressed in the exhibition From My Home to Yours, Richards says it is vital that the traditional homelands (New Jersey, New York, Delaware) of the Lenape be recognized will.
MAM has an important collection of Native American art with more than 4,000 works from a period from about 1200 AD to the present day. While the organization has been forward-thinking in this area for many years, Richards says there hasn't been a local person on staff. In 2020, the Native American Art Advisory Council was formed, which included Native Americans.
What came out of that endeavor was a real priority for MAM, not just to have a national conversation about Native Americans, Richards explains, but to truly connect with tribes in New Jersey as well as with the Native American community in the New York metropolitan area. "So it's not just that (MAM) is doing indigenous stuff, but we really want to include indigenous people as viewers."
From My Home to Yours is made possible through the generous support of the Lyn and Glenn Reiter Endowed Special Exhibition Fund, Patti and Jimmy Elliott, Tracy Higgins and James Leitner, and Margo and Frank Walter. All MAM programs are made possible in part by funding from the New Jersey State Council on the Arts, a partner agency of the National Endowment for the Arts, the Carol and Terry Wall/The Vance Wall Foundation, the Partners for Health Foundation, the Geraldine R. Dodge Foundation and museum members.
To learn more about events during Indigenous Peoples Weekend at MAM, visit the MAM website. Follow MAM on Facebook and Instagram.
Advertise with New Jersey Stage for $50-$100 per month. Click here to get more information
---
---
About the author: Carolyn M. Brown is an investigative journalist, editor, writer, playwright, multimedia content producer and entrepreneur. She has produced content spanning a portfolio of platforms including print, digital media, broadcast, theater arts and custom events. Her publications include Essence, Forbes, Inc. and Diversity Woman magazines. She is a founding member of the Paterson Performing Arts Development Council, a non-profit organization dedicated to bringing diverse communities together through performing arts and cultural events and creating pathways for new and established artists.
Content provided by Discover Jersey Artsa project of the ArtPride New Jersey Foundation and the New Jersey State Council on the Arts.