Shotkit has just published the results of a recent poll of 1,000 photographers, asking "What camera will amateur and professional photographers be using in 2022?". The poll results are quite surprising, but give a good insight into the most popular camera options.
Ever since mirrorless cameras first appeared, there has been an ongoing debate as to whether they really are better than DSLRs. While the best mirrorless cameras (opens in new tab) The best DSLRs often offer smaller bodies, faster burst modes, and quiet shooting options (opens in new tab) can be more ergonomic, they have optical rather than electronic viewfinders which means better quality and less lag, and battery life is often much better.
• DSLR vs. mirrorless cameras
Despite the pros and cons of both, mirrorless cameras are preferred by 63% of professional photographers, while 36% are still loyal to DSLRs and only 1% own both.
Interestingly, the gap among amateur photographers is much narrower, with 54% using mirrorless systems and 45% still using DSLRs. One of the reasons for the more even distribution could be that amateur photographers don't have as much need for the latest equipment and can't justify the high cost as they don't make any money from it.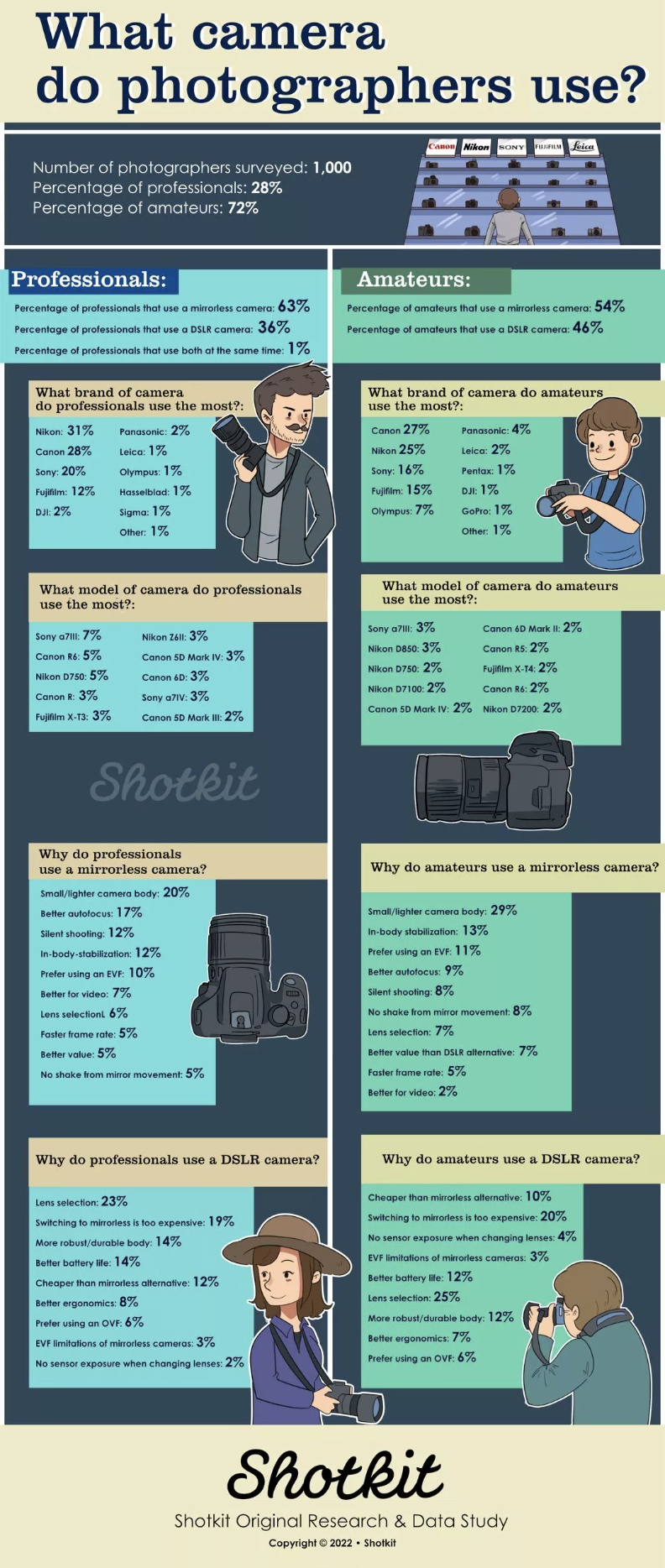 Overall, the Sony A7 III is the most popular camera used by professional photographers (opens in new tab) although it was released in 2018. When it came out, many photographers were making the switch from DSLRs to mirrorless for the first time (I know because I sold an insane number of them at the Photography Show in 2019) and the Sony A7 III offered plenty of photo and video quality, in-body -Stabilization and a smaller, lighter body than many pro DSLRs.
While 7% of professional photographers prefer the Sony A7 III, making it the most popular camera, Nikon is actually the most popular brand overall with 31% of professionals using models like the Nikon Z9, Nikon Z7 II or Nikon Z6 II . Canon comes in a close second with 28%, while Sony follows in third place with 20%.
Hobby photographers are also big fans of the Sony A7 III, but the Nikon D850 (opens in new tab) is equally popular – two very different cameras that can deliver excellent image quality. While the Sony A7 III is a better all-rounder, the D850 is a high-resolution powerhouse with one of the best focusing systems of any DSLR. Canon is the most popular brand for the amateur market with a 27% share, closely followed by Nikon (25%) and Sony (16%).
Which camera you choose depends a lot on what type of photographer you are and what you like to shoot. Both amateur and professional photographers are more likely to choose mirrorless cameras than DSLRs because they focus faster, are better suited for video, and are smaller/lighter. But those who have stuck with DSLRs prefer the range of lenses available, the cost of switching to mirrorless cameras is too high, and they have sturdier bodies.
Of course, if you ask every photographer in the world what equipment they use, you'll get very different results, but asking 1000 photographers is enough to show current camera trends. It is surprising that some of the newer camera releases like the Canon EOS R5 (opens in new tab) or the Sony A7R IV (opens in new tab) don't appear on the list, but that could be because a) they've been so hard to come by due to supply chain issues and b) they're incredibly expensive, as are the lenses that go with them. Times are tough and with the cost of living rising, maybe four year old cameras are the way to go?