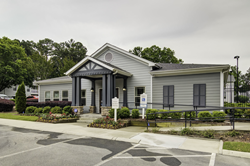 "The Dakota is a great addition to our local portfolio of communities," said Josh Colter, RangeWater's director of acquisitions. "The Druid Hills neighborhood is especially popular with Emory physicians, employees and students, employees of the Center for Disease Control and numerous Fortune 1,000 companies."

ATLANTA (PRWEB)
September 20, 2022
RangeWater Real Estate and Nippon Steel Kowa Real Estate (NSKRE), advised by Metzler Real Estate, have acquired a sprawling gated community in the greater Atlanta area.
The collective purchased Avana Druid Hills, which will be renamed The Dakota at Druid Hills, located at 3471 N. Druid Hills Road in Decatur. This is part of multifamily real estate company RangeWater's strategy to continue to meet housing demand by purchasing communities in desirable neighborhoods throughout the Sunbelt.
"RangeWater is committed to meeting the growing demand for housing throughout the Sunbelt," said Steven Shores, RangeWater chairman and CEO. "Our acquisitions team is always looking for opportunities to acquire well-maintained communities and add value through renovations and upgrades, as well as strong partners like NSKRE to execute the business plan. The Dakota at Druid Hills provides a great foundation that aligns with our strategic efforts to improve the lives of those who call it home."
One of Atlanta's premier suburbs, Decatur's Druid Hills neighborhood is popular for its tree-lined streets, shops, movie theaters and convenient location to Emory University and the Centers for Disease Control. The garden complex was built in 1985 and has 228 residential units.
"The Dakota is a great addition to our local portfolio of communities," said Josh Colter, RangeWater's director of acquisitions. "The Druid Hills neighborhood is particularly popular with Emory physicians, employees and students, employees of the Center for Disease Control and numerous Fortune 1,000 companies. We look forward to inviting new residents to join our community and enrich the lives of those who already call it home."
RangeWater will continue to contribute to the many coveted amenities at The Dakota desired by today's renters, especially given that so many more people are working from home or spending their free time outdoors and enjoying the great Georgia weather. Current features include an outdoor gazebo, kitchen and picnic areas, pool, private tennis courts, fitness center, auto care center, business center and an upgraded clubhouse.
Inside, the apartments offer large spaces, including separate dining, living, and washrooms, outdoor balconies and patios, and gas fireplaces. The one bonus room units will be converted to three bedroom apartments. RangeWater will invest in interior improvements to ensure the property retains a competitive edge.
"Some of our two-bedroom apartments are being converted to three-bedrooms to address this underserved need in the Druid Hills submarket," added Colter. "That alone made this acquisition a very compelling investment for RangeWater."
The private company RangeWater was founded in 2006. The company acquires, develops, manages and invests in multifamily communities in the Southeast and Southwest United States with a $6.3 billion portfolio. Georgia is RangeWater's largest market, followed by Florida. The company is growing rapidly in the Mountain West and Southwest.
Images from the Druid Hills community are available here.
About RangeWater Properties

RangeWater is a fully integrated, multi-family real estate company that creates fulfilling experiences for its partners, customers, residents and employees throughout the Sun Belt and Mountain West. The Atlanta-based company has acquired and developed more than 34,000 multi-family homes with a total capitalization of over $6.5 billion since its inception in 2006. RangeWater currently manages a balanced portfolio of over 93,000 multi-family homes in 11 states. With offices in Atlanta, Dallas, Denver, Tampa and Salt Lake City, RangeWater targets markets with high job growth and high demand for new homes. Visit LiveRangeWater.com for more information.
About Nippon Steel Kowa Real Estate

Nippon Steel Kowa Real Estate Co., Ltd. ("NSKRE") is a leading Japanese developer, owner and operator of commercial and residential real estate with a 70-year history. The Tokyo-based company re-entered the US real estate market. For more information about NSKRE, visit https://www.nskre.co.jp/english/.
About Metzler Real Estate

Metzler Real Estate (Metzler) has over 40 years of experience delivering exceptional investment results across the United States, driven by his expertise and creative approach. For more information about Metzler Real Estate, visit http://www.metzlerna.com.
Share the article on social media or via email: