Arena Media Brands, LLC and its partners may receive compensation for links to products and services on this website. The Sports Illustrated editorial team is not involved in the creation of this content.
Nomad Goods has quietly and quickly become one of the most notable tech accessory companies. The brand's attention to detail and obsession with using high-end materials has earned it a reputation among tech enthusiasts as a company where, while it may be a bit more expensive than its competition, you're getting your money's worth.
And that's regardless of whether you pick up a leather case for iPhone 14, an Apple Watch strap or any of the charging accessories. So let's walk through the history of Nomad Goods, which took years to get to this point from humble beginnings, and share some of our favorite products they make.
How Nomad Started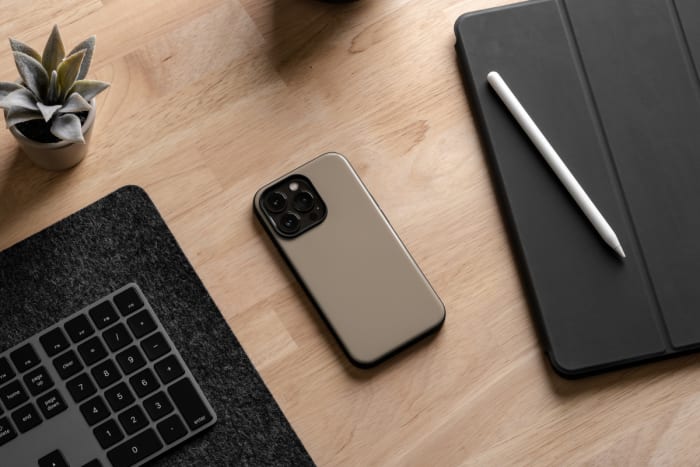 Nomad Goods co-founders Brian Hahn and Noah Dentzel first met in Santa Barbara, Calif., where the budding friendship eventually led to the launch of Nomad's first product on Kickstarter in 2012. The ChargeCard was a small device that looked like a credit card to charge your iPhone. The card had a drop-down USB adapter to connect to a wall adapter or your computer's USB port, with a 30-pin or microUSB adapter on the end of the card to connect directly to your iPhone or microUSB device.
The duo set a goal of $50,000 for a successful campaign, but instead raised more than $161,000 and found themselves with a full business to run, with countless orders to fill.
ChargeCard provided many valuable lessons for the pair, and the product finally shipped eight months late.
What's better than a charging accessory the size of a credit card? A charging accessory the size of a key, and so using its experience and newfound knowledge, Nomad launched a second Indiegogo campaign in 2013 for the ChargeKey, a device we've personally carried on our keychains for years, and it turned out very useful more than once as we needed to top up an iPhone while on the go. The project was successful, but the team grew and hired, more lessons were learned and offices moved.
Fast forward to 2022, Nomad Goods has survived everything from a microburst tornado that ripped the roof off its office to a global pandemic, one during which the company shifted gears and produced PPE for healthcare and essential workers, as well as the general public. You can read more about Nomad's history, complete with a fuller timeline, on the Nomad Goods website.
Sustainability leads the way
Sustainability is a hot topic as we approach the end of 2022, and for good reason. It is important that all businesses, regardless of size, keep this in mind. In turn, Nomad Goods purchases renewable energy supplies to power its office, conducts quarterly team beach cleans, and refurbishes or uses e-waste recycling for damaged returns.
In addition, in 2020 Nomad Goods partnered with Climate Neutral to offset 100% of the company's carbon emissions, including that produced from its supply chain, employee travel and utilities.
Nomad Goods also details its ambassadorship with Protecting Blue Whales, Blue Skies and a partnership with Mai Ndombe on its sustainability website.
Selection of Nomad products
With the same spirit of sustainability, Nomad Goods has many different types of products in its portfolio, but is perhaps best known for its products that include leather.
More specifically, Nomad Goods has two different types of leather that it uses in everything from iPhone cases and Apple Watch straps to a limited-edition leather desk mat.
Nomad Goods uses its own leather, along with Horween Leather. Nomad's full grain leather was developed with Ecco, a Danish tannery. The tanning process is such that it saves water and energy costs, while giving the finished product a high-quality appearance that slowly patinas over time. It's also more affordable than the Horween Leather you'll also find in the products, but doesn't sacrifice quality.
Nomad Goods has a handy comparison chart detailing the benefits of each type of leather used in its various products.
The pictures don't even do the leather goods justice, but you can see a slight difference when you look at products like the Modern Leather Case for the iPhone 14 series. The Nomad Goods leather version costs $50 and is available in several colors, including a natural leather color, while Horween leather is limited to black or rustic brown for $70.
Nomad Goods also has leather cases for your wireless headphones, adding a layer of protection to your AirPods or AirPods Pro, while providing a stylish look. AirPods cases are made in Nomad or Horween flavors.
Another popular Nomad Goods product line is their Apple Watch leather straps. Modern Bands have a sleek design that doesn't draw attention but maintains a stylish look. Traditional Bands, however, raise the level of elegance and add an exclusive look. Prices range from $50 to $150, depending on the look and type of leather.
Pushing boundaries with power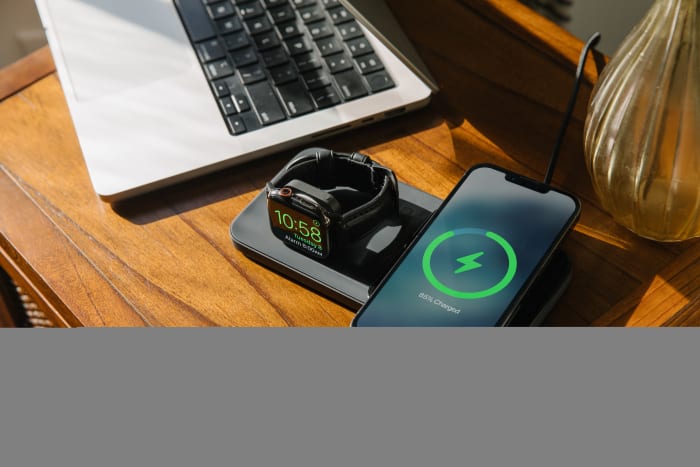 Nomad Goods, of course, doesn't just have leather accessories for Apple gadgets. For Google Pixel or Samsung Galaxy owners, Nomad Goods has plenty of charging options.
The Base Station Hub Edition allows you to simultaneously charge two devices using a wireless connection and two more devices using a wired connection.
Looking for something more Apple specific? There's an Apple Watch Edition base station that charges up to five devices at once and includes an Apple Watch charging stand on the back of the base station.
With the exception of the Base One Max, which features MagSafe and Apple Watch charging adapters, all Nomad Goods wireless charging stations also incorporate a leather mat with a metal or wood base. The Base One Max trades leather for a sleek glass finish.
For a wired charging experience, Nomad Goods has a wide range of power adapters. Charging speeds range from 20W to 65W power adapters, all based on a USB-C connection. The 30W and 65W adapters take advantage of GaN technology to make the adapters smaller and easier to travel with.
One of our favorite wall adapters has to be the 30W Clear Power Adapter. It looks great and is capable of quickly charging most modern smartphones at or near full speed.
Of course, a premium cable charging experience isn't complete without a premium cable, and Nomad Goods has you covered. Nomad Goods has three different USB-C cables that are reinforced with Kevlar to ensure the cables last. Sizes range from 0.3 to three meters, with USB-C to USB-C, USB-C to Lightning, and a universal cable that can connect to USB, USB-C, and microUSB ports.
Nomad Goods Sport cables offer a more cost-effective alternative that will still last you longer than the cables that came with your iPhone or Android phone.
Always working towards the next big thing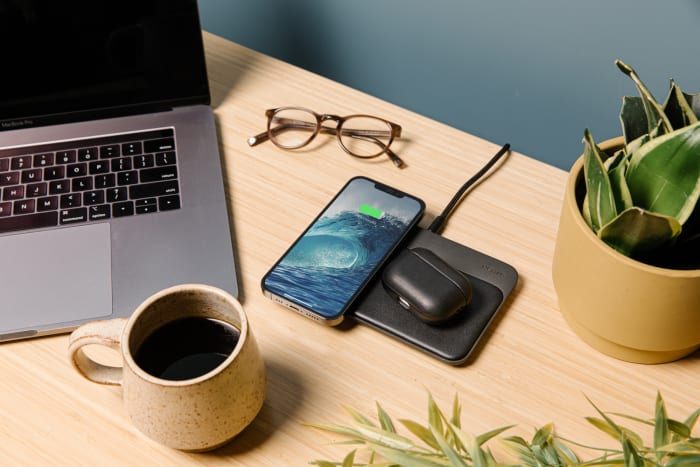 One of the most admirable traits about Nomad Goods is that they are a company that isn't afraid to try new things, to find a new product line where none currently exists, or to elevate the experience of an existing product type.
For example, Nomad Goods has experimented with releasing a high-end pen made of steel, aluminum or titanium. Or how about the Apple TV Siri Remote Leather Case that hides an AirTag underneath the remote so you can find the remote quickly and easily, cool!
Leather and wallets go together like peanut butter and jelly, so of course Nomad Goods has its own line of wallets and money clips.
Something to keep an eye on is Nomad Goods which looks at how to use the Apple Watch Ultra and their own products in different scenarios. For example, Nomad has found the Ultra to be a fantastic surfing companion. Nomad went so far as to make app recommendations, provide some tips for getting the most out of the Ultra's fitness features, and of course offer some Apple Watch Band suggestions.
And here's the real kicker: For this year's Black Friday, the savings start at 1pm Eastern on November 18th with 25% off sitewide. You'll want to buy early, though, once the products sell out, they're gone. Assuming stocks last, sale ends November 29th.
Prices are accurate and items are in stock at time of publication.