We seem to be seeing the repeated pattern of this government ignoring professionals and playing a little politics on a health problem.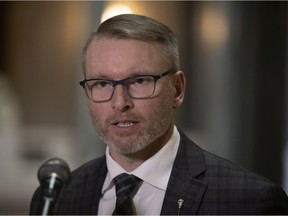 content of the article
There may be an ongoing, legitimate debate about how we should address the complex and sensitive issue of medically-assisted euthanasia.
content of the article
Perhaps the first point of entry when it comes to medical assistance when dying (MAiD) shouldn't be a non-emergency phone menu option to Saskatchewan's 811 health care hotline, along with inquiries about the flu, your COVID-19 symptoms, or other immediate "health". " To ponder.
content of the article
But how and why this Saskatchewan party government refrained from MAiD information on the 811 line may be more troubling than ever when it has that option as a highlighted option.
"There's no point greeting people with a message that might suggest that suicide is an option," Secretary of State for Mental Health and Addiction Everett Hindley said in a written response to the CBC, which asked why Removed information about MAiD as a fifth option from 811 this month.
content of the article
However, the removal raises some other questions about the minister's way of deciding matters… or rather, how eagerly the government seems to be listening to unelected politicians and others with their own agendas.
For starters, anyone seriously concerned about how best to interact with someone going through a crisis caused by depression or post-traumatic stress might be wondering why the current recorded 811 menu isn't a direct one Offers an option that asks: Would you like to discuss suicidal thoughts?
Instead, the Saskatchewan Health Department's 811 health hotline now asks if you "would like to speak to a mental health or addiction doctor" (who would probably ask that question anyway).
But unfortunately, there's reason to believe that this debate isn't about good practice in suicide prevention, or whether we're still sending out subliminal signals that talking about suicide is taboo.
content of the article
Disturbingly, this appears to be leaning very heavily on political peers anxious to make their own thinly veiled political statements. If so, we seem to be seeing the repeated pattern of this government ignoring professionals and playing a little politics on a health problem.
To put it bluntly, that is Not a suicide problem as described by Hindley. That a health minister would put it that way is disturbing in itself.
While it may be wrong to conflate complex euthanasia (again, the term assisted suicide is more than a matter of semantics) with other health issues, we all need to understand by now that medically assisted dying is an accepted and heavily regulated end the world is -living option in our country.
Hindley's own government website carefully describes MAiD as "compassionate, patient-centred, family-centred care." Information posted on this Dying with Dignity website methodically explains the process, which involves written requests witnessed by non-family members before approval is granted.
content of the article
Indeed, those who are quite unconcerned about this debate are the politicians who now – possibly for their own political reasons – insinuate that this ever encouraged suicide.
When CBC asked why the option was removed, government officials explained that concerns were raised by "a mental health and suicide prevention advocate for whom suicide is a deeply personal issue."
Conservative Saskatchewan Senator Denise Batters should understand that suicide prevention and assisted dying are two different things.
This was far from open as Batters readily admitted to CTV that she had campaigned for the minister because "it was very problematic and needed to be changed".
We also know that a month ago the leader of the People's Party of Canada, Maxime Bernier, tweeted that MAiD was an 811 option after being approached by a PPC supporter. Bernier called it a "death cult" despite having voted for medically-assisted death as an MP.
content of the article
When contacted again by CBC after the 811 menu change, Bernier praised the Sask. Party government for the change and continued to advocate for new legislation that "it must be criminal for a medical staff to promote it".
For real? Is that what we want? Does it adequately represent how healthcare professionals and Dying with Dignity have handled the matter?
Or is it rather nonsense that the government bows to the political wind when it blows from the right?
Mandryk is a political columnist for the Regina Leader-Post and the Saskatoon StarPhoenix.
Murray Mandryk: Strategic rationale for excitement about potential SMR sites

Murray Mandryk: Offering consolation to radicals backfired for some politicians
Want to know how we decide what to cover and how editorial decisions are made in the Saskatoon StarPhoenix and Regina Leader post? Get the weekly newspaper Editor's letter Newsletter from Editor-in-Chief Russell Wangersky and join the discussion on what's behind reporting news and providing commentary, both in print and online. Click here to login.