THE OFFICE OF PARENT AND FAMILY RELATIONS PROVIDES ACCOMPANYING EVERY STEP OF THE COLLEGE PATH
It is not just the student who feels the transition to studying. Parents and guardians also approach this time with mixed feelings of excitement and uncertainty as they experience new relationship dynamics with their son or daughter.
This is where Liberty University's Parent and Family Connections Office, part of the College of Applied Studies and Academic Success (CASAS), offers support. The team of three – Assistant Director Tamatha Anthony, Lead Parent Advocate Timi Plyter and Operations Coordinator Rosemary Shakro – create multiple avenues to inform and encourage parents as they enter a new phase and their child gains independence.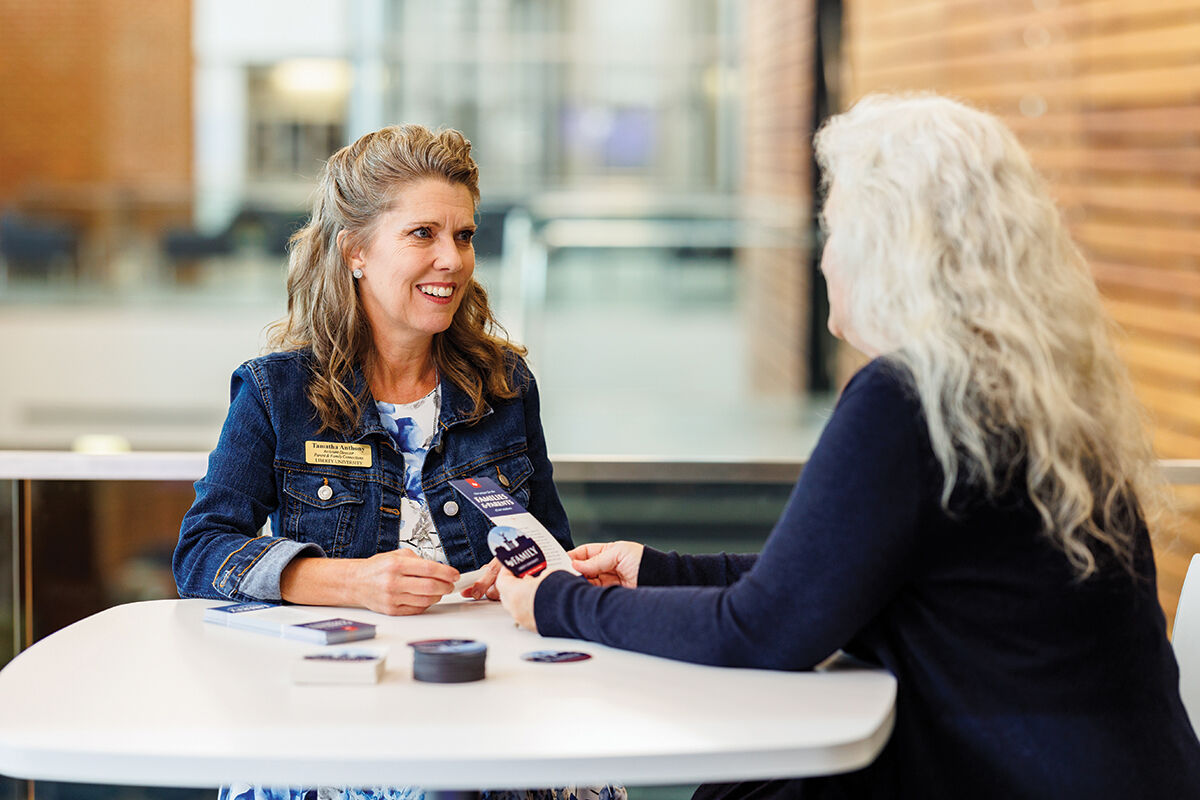 "We help equip both sides of the conversation, the parent and the child, to pass the baton of growing up to the student," Anthony said. "We have resources to answer first semester questions and to help parents educate and inform them about how to lead their students into college life. We help parents say, 'We got this.'"
Many of these resources can be found on the Parent and Family Connections website, where the team has created presentations, monthly newsletters, videos, blogs, helpful links, and more to help parents engage and learn with common parent-student relationship scenarios can learn more about college life.
"It's not just about class schedules, roommates or any of that — it's about the entire relationship between a parent and a new adult coming into college, how a parent can become a coach and a cheerleader for their child," he told Plyter , who was parents to Liberty and now refers to herself as "LU Grandma" in her videos. "We help them navigate these waters until their child's graduation."
Contrary to what parents might feel at other schools where campus life seems off-limits to the older generations, Liberty warmly welcomes families to experience student life. From breakout sessions during Welcome Week at the beginning of each school year to family weekends in the fall (This year from October 21st to 23rd) to special events during College For a Weekend (CFAW), parents can explore the campus themselves and hear from the Parent Office staff in person.
"At Liberty, we provide every possible service to students that we can, and parents are a part of that, too," said Brian Yates, dean of CASAS. "What makes Liberty unique is that we don't want to discourage parents from getting involved here. We want parents to have a Liberty experience as much as their children do, so we encourage them to come whenever they want and let them know what Liberty is in store for them."
Having worked at Liberty for 26 years and spent a great deal of time speaking with parents, Plyter said the needs of parents have changed over the years.
"Some parents become a kind of 'snowplow parent' where they pave the way for the student rather than pave the way for the student, and so we try to help them learn the practices that best suit their child can help you succeed in college. " She said. "We help the parents to loosen their grip and help them deal with it. Of course they still love their child, they still care about them, but this time is a rite of passage in the child's life, to get one to grow up."
The staff also understands that some students come from households with no college experience and may not be familiar with the practices of higher education. The website provides a glossary of terms, some of which are widely used in education and others specific to Liberty.
"We help slow the conversation and don't assume they know everything about university and college terms," ​​Anthony said. "Even with a parent who has college experience, higher education has changed so much."
The connection to families sometimes begins before the child is even an official Liberty student. Parent and Family Connections staff interact with prospective students and families during DecideLU and ExperienceLU, special campus visits that occur throughout the year (see Liberty.edu/VisitUs for more information on these events).

"From that moment until they graduate — and sometimes longer — we keep in touch with them and offer any support we can," Plyter said.
Liberty's Christ-centered core shines through everything the Parents' Office offers. Liberty is committed to promoting the same Christian values ​​that many parents have instilled in their children from birth.
"The values ​​parents raised their children with continue when they come to Liberty," Yates said.
"We couldn't do our job without our faith," added Anthony. "It built our resources and defined the way we respond and pray with parents. We follow Ephesians 4:29 and want every word that comes from us to be edifying. We want to bring glory to the Lord in everything we do, including our work."
Plyter said they don't consider it a job: "We consider what we do as service, and service is a lifetime."

To learn more about parent and family connections, call (434) 582-2339 or email [email protected]
---
Words from a LU mother:
Korie Robertson, whose family was the focus of hit A&E reality TV show Duck Dynasty, has spoken frequently about the positive, Christ-centered impact Liberty had on her family. She took part in a College For a Weekend (CFAW) parent panel in February. Their son, John Luke, and daughter-in-law, Mary Kate, are Liberty alumni, and some of their other children also studied at LU.
"These are such critical years; I think it's really important for our children to be in an environment—especially during this time in their lives—that is about following Jesus," Robertson said of her experience as a LU in this recent video testimony -Parent.