From Business in Leeds 2022 | Full issue
"The bicycle has done more for woman than anything else in the world—it gives her a sense of self-reliance and freedom the moment she sits down," said civil rights activist Susan B. Anthony in 1896 .
Today, women still cycle for the physical and psychological benefits, which can sometimes be life-changing. But not as much as one might think.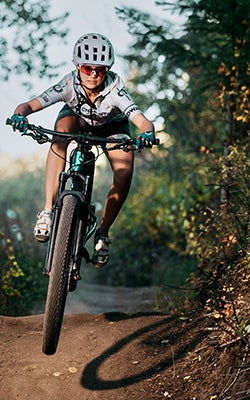 Brett Donelsen and his wife see the opportunity to change that every day. Inspired to help young women, they launched The Cycle Effect, in 2013, an Eagle County nonprofit that encourages disadvantaged girls to build self-esteem and healthy lifestyles through cycling.
"We had no business experience, but kept saying 'yes' to opportunities instead of focusing on the 99 'no's' we got," Donelsen said.
The program provides girls with bikes, training—and an escape from the stresses of high school. As they learn to ride and compete as a team, they not only improve their overall health, but they learn to work together and overcome obstacles.
None of them started out with any prior mountain biking experience—but they all ended up being passionate about it. "We are not super-focused on the competition. We're a bike team, but really a mentorship program that uses the bike as a tool," he said. "I've never been a part of a sport where you learn so many metaphorical lessons for life," like of the struggle to climb a hill, the freedom to let go and the confidence to move forward without fear.
Many of those same lessons apply to him as he builds his nonprofit. A few years after its launch, he attended two Demystifying Entrepreneurship workshops in Vail.

"Being an entrepreneur is very sad, because it feels like you're making decisions with the weight of the world on your shoulders."
Brett Donelson, founder, The Cycle Effect
"The workshops reassured me that I'm not completely lost. I can ask questions and realize I'm not crazy," he said.
"The best thing I gained was confidence and networking; sitting in a room with like-minded people is invaluable. I thought of partners—I'm not alone."
These days, he focuses on building outreach programs and expanding to new locations throughout Colorado. Ten years from now, he aims to work with thousands of children.
"I love what I do. I love learning about starting things—and now that I've done it once, the second and third times will be easier," he says.
Business in Leeds magazine Deming Center for Entrepreneurship Contact Leeds