The student-run art magazine Candid is scheduled for publication at the end of the fall semester of 2022. Candid is an art feature magazine run by students in the art department on campus.
Ashley Staib, Editor-in-Chief of Candid, described the magazine as a medium for students to creatively express their thoughts and opinions.
"Most of the time, these are opinion-based articles," Staib said. "Then illustrators or photographers create images to go with this item to represent the point in an artistic way."
Members of Candid said they founded the magazine to bring a different media source to campus.
"Last summer I was approached by a student about doing a magazine that would be more of a fashion arts magazine with the idea that it would make sense," said Robert Dickes, assistant professor of photography and digital imaging. "Something different than what we currently have at uni with our news."
"Nathaniel Tang basically came up with this idea, and it was pretty impressive for him to come up with it himself," Staib said.
Unfortunately, The Shield Tang was unable to solicit comment.
Dickes said Candid has had trouble resolving issues by the end of the semester in the past. They hope that this semester will cause them fewer problems.
Dickes also said Candid's goal is to become a university organization like The Shield. He said they want a permanent source of funding and space. "It's going to be really difficult because we don't have a central space and an office that they can always come back to," he said.
As the creator of Candid, Nathaniel Tang was the original editor-in-chief. After he left, he passed the position to Staib.
As the new editor-in-chief, Staib said she tries to encourage employees to do their jobs more expeditiously, rather than trying to do everything at once.
"For the visuals, we had a deadline for you to give rough sketches of your ideas, so we know they'll at least do that. And then another day, they have a rough draft of their visual. And then another date, then they'll have it done," said Staib.
"We have a lot of people who help," Staib said. "We get the articles in and everyone is on the right track."
Dickes said another issue Candid had with releasing an issue at the end of each semester was the printing process. In the past it was even printed abroad.
"The last one actually came from Canada; the time before that was outside of Chicago," said Dickes. "It's an English company based in Chicago and it just takes a little longer trying to print it here. In town or anywhere close by, we'd pay triple the price. So we just couldn't afford to give away a free magazine."
Dickes said: "The key for us and our subject is printing. So if everything goes right, our goal is to get it out by the last week of class or graduation. Unfortunately that hasn't happened yet. We are pushing our deadlines earlier and earlier because we always feel the pressure won't last that long."
Dickes said the best place to get a copy of Candid is at the Arts Center in the reception office or upstairs near the photo lab. He also said there are places in the Liberal Arts building where students can get a copy.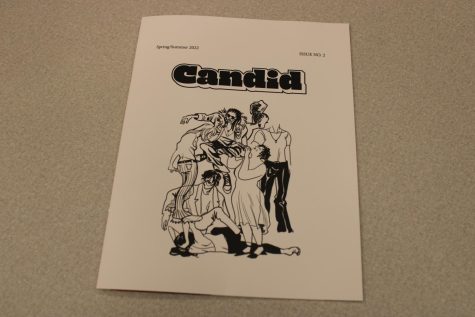 Lexi Reed, junior communication studies and journalism major, said everyone who works at Candid is fun and friendly people, and she encourages students to check out the magazine.
She said: "Other students should read Candid because the art and the stories are phenomenal. The creativity and execution in the previous two editions has been amazing. The images are so aesthetically pleasing, beautifully executed, and the accompanying articles are powerful, important, and interesting messages. It's so easy to read and it's always fun to see some familiar faces in a publication like this."
Staib said she hopes Candid can reach a wider audience in the future and become a lasting source at USI.
Staib said, "I hope it becomes a permanent fixture on campus and gets more exposure. And become a kind of legacy where I can see students coming here and in about ten years Candid is still running and they're still causing problems.