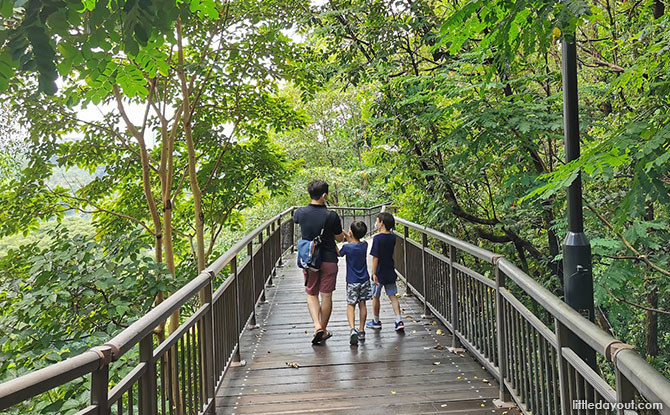 We all experience a lot of inertia at times as a family to move and lead a more active lifestyle. Who is usually drawn to the couch and screen? Hands up if you want to have fun with your kids while staying active as a family!
Here are eight activities to try! Getting fit together means getting stronger together!
---
Ideas on how to stay active as a family
1. Walk in the park
The easiest and most straightforward activity to keep active as a family is to go to the park and go for a family walk. Pick a park—whether it's nearby or at one you've never been to, taking steps together can help keep you fit and strengthen relationships. Parks that we recommend include Thomson Nature Park with its Hainanese village ruins, Sungei Buloh Wetland Reserve and the Botanic Gardens.
---
2. Climb up a wall
---
READ: Tips for dealing with your child's myopia
READ: Little India lights up for Deepavali
---
Time to drive everyone up the wall! Of course we mean climbing the wall as a family.
Climbing at gyms like Ground Up Climbing is a fun family affair. There are beginner routes and family members can cheer each other on. Children usually cheer on their parents, especially those with acrophobia. Parents can also help their children belay! Do you prefer bouldering? There are also bouldering walls to try as well as a children's playground!
---
3. Bicycle, scooter, roller blade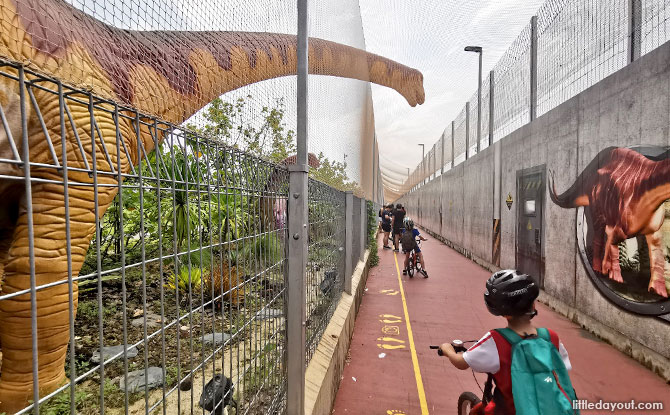 Choose bikes of your choice and explore the area on either a bike, kick scooter or in-line skates!
A popular route is the Marina Bay, Sentosa and Punggol East Coast area.
---
4. Jump at a trampoline park
An easy way to get hearts pumping is to visit a trampoline park! All you need are socks and energy to get your heart pumping!
---
5. Go to an obstacle course or high ropes course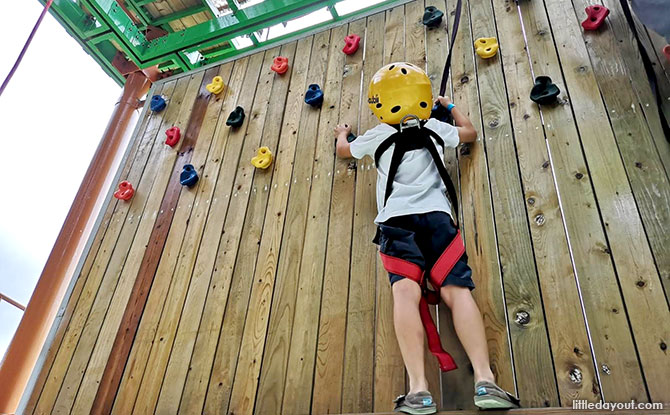 Overcome your fears as a family! Visit a High Elements Rope Course like Adventure HQ, Houbii at Singapore Zoo, Forest Adventure, Mega Adventure, Clip N Climb and more! Playgrounds like SuperPark and Xcap8 are also perfect for families.
---
6. Water park time
How about cooling off in the heat and having fun at the water park? Places like Adventure Cove and Wild Wild Wet, Hydrodash or even water playgrounds in Kallang, Singapore Zoo and Toa Payoh are great fun!
---
7. Do sports together
Active SG Singapore often hosts activities for the whole family. On this website you will find the latest family-centric events that you can attend for free! Alternatively, how about picking a sport you used to play (ahem) and teaching it to your kids? Book the desired sports facility, provide the equipment and viola – the sport becomes a special family ritual!
---
8. Find your tribe
Sometimes we all need a little peer pressure to get started on something. Find your tribe and join a club so the like-minded community can give your family an active start. This can be a running club, a cycling group or even a community of hiking enthusiasts. Join an existing group so everyone is encouraged to participate in the activity together!
For example, Fit Mummy Nation organizes activities for mothers and their children. In addition to the family events, mothers who want to lead a more active lifestyle can also participate in the mother-centred activities.
---
Getting stronger in relationships and in physique
We hope these ideas will help your family move forward together, with the ultimate goal of enjoying each other's company! I wish you a lot of strength, not only physically, but also stronger bonds between your loved ones.
---
READ: Tips for dealing with your child's myopia
READ: Little India lights up for Deepavali
---